Medicine is considered one of the most lucrative and prestigious career paths globally. It is common knowledge that a medicine or veterinary medicine degree can lead to a financially rewarding career. A Doctor of Veterinary Medicine (DVM) program can help you transform your love for animals into a full-time career. Veterinary medicine is a diverse field that allows students to explore various career opportunities and build a fulfilling career.
The first step towards becoming a veterinarian is to apply to a veterinary school that offers a DVM program. However, veterinary school costs are often steep, but building a career in veterinary medicine can be financially rewarding too. According to the US Bureau of Labor Statistics, the median salary of a veterinarian is around $89,000. A veterinary degree covers a vast subject that allows students to explore careers in research labs, farms, and zoos. Before we delve into the various career possibilities after earning a degree in veterinary medicine, it's important to gain an overview of the DVM program.
Overview of the DVM program
DVM is a four-year professional degree program in veterinary medicine with in-depth animal sciences training and clinical skills. The curriculum integrates the study of basic sciences and clinical medicine for the holistic development of future veterinarians.
Basic science
The seven-semester basic science course provides students with a comprehensive understanding of the topics that prepare them to become competent veterinarians. Here are the important topics covered under the basic science program:
Veterinary Anatomy
Veterinary Histology and Embryology
Veterinary Immunology
Veterinary Physiology
Veterinary Parasitology
Veterinary Bacteriology and Mycology
Veterinary Pharmacology
Veterinary Pathology
Veterinary Virology
Veterinary Clinical Pathology
Veterinary Toxicology
Veterinary Anesthesiology
Small Animal Medicine
Aquatics Animal Medicine
Small Animal Surgery
Large Animal Medicine and Surgery
Exotic Companion Animal Medicine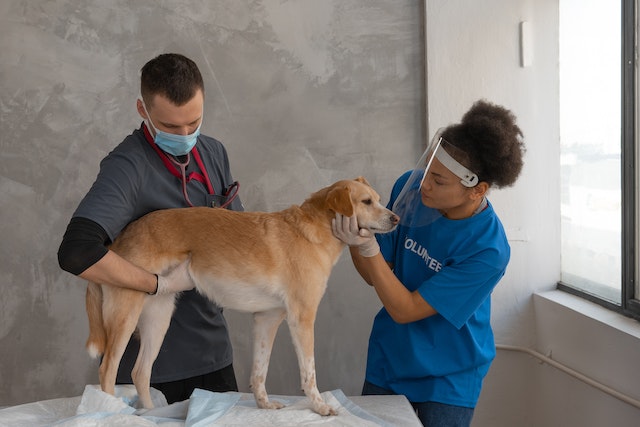 Apart from covering the important topics of veterinary medicine, the basic science course also undertakes the teaching of professional development and veterinary clinical skills.
Clinical medicine
In the fourth year, students have direct contact with various animal species working with state-of-the-art technology in diagnosing and treating life-threatening medical conditions. Through a series of clinical rotations via mixed track programs, providing wide-ranging hospital experience with small animals and large animals, clinical students are also encouraged to integrate their knowledge acquired during the preclinical years of studies.
Career options with a veterinary degree
Veterinary medicine allows graduates to explore various job roles within the veterinary industry. Here are some of the most popular career options after earning a veterinary degree:
Veterinary dermatologist
Veterinary anesthetists
Behavioral medicine veterinarian
Animal welfare veterinarian
Clinical animal pharmacologist
Veterinary dentist
Internal medicine veterinarian
Veterinary microbiologist
Veterinary nutritionist
Exotic animal veterinarian
Veterinary radiologist
Veterinary specialist
These are some prominent career options after earning a well-designed degree in veterinary science. The DVM program offers holistic development of veterinarians by building a strong theoretical foundation, clinical skills, and professional development. If you want to earn a DVM degree, you can explore top veterinary schools in the Caribbean to pursue your dream of becoming a veterinarian.